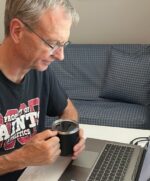 Latest Posts
A blast from the past. That's me — the tall one in a shirt! What do you think is happening? Who am I saving? How many stitches did I need after this feat? The real story? Zero stitches needed. I was baby sitting the bear for a friend building a new house. He wasn't a …
0 comments
I have a confession to make. I usually don't read romance novels. However, my wife loves the books by Johnnie Alexander. Since I am working to improve my writing craft, I decided to try a new genre. So I picked up one of Johnnie's latest books. The Cryptographer's Dilemma was a pleasant surprise. I enjoyed …
0 comments
This Sunday, June 26, I will be filling the pulpit for Jeremiah Holcomb who is vacationing with his family. Jeremiah preaches for the Refuge Christian Church in Eudora, KS. My mother attends here. I'm looking forward to speaking on "Five Factors for Following Jesus." The message is based on Luke 9:46-62.
1 comment
Current Projects
Fiction
Growing Up Ozark Poor follows the adventures of six-year-old Jimmy Miller as he faces temptations, poverty and disasters as part of a large family living deep in the Ozark Mountains at the end of the Great Depression. Events challenge Jimmy to decide what he will do, whom he will love and what he believes is right. This historical novel, imagined from stories my father told, is targeted at the adult market.
Fiction
"Warrior" is the project name for a biblical fiction book about an ancient Israelite soldier in the early Iron Age. I am currently researching the culture and playing with plot structure. I have lots of questions:
What were the Judean hills like at 900 B.C.?
How did they dispose of bodies slaughtered in battle?
Etc.